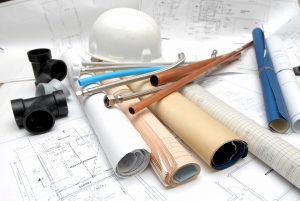 This is something we can't repeat enough: when it comes to your home's plumbing system, whether you need a simple fix to stop a leak or a full new appliance installation, ­always hire a professional plumber from the start. We understand it's tempting to try to tackle some jobs on your own—after all, you did get that great set of wrenches as a birthday present last year. Or you may want to save some money by going with a local "handyman" or some other non-professional who says something like, "Hey, I can fix that for you totally cheap!"
Don't be fooled! Proper plumbing work requires the best in training, experience, and equipment. Amateur work will not only be time-consuming, it can lead to water leaks, backed-up drains, and damage to your house.
Okay, I'll hire a professional… but which professional?
This is a great question. Simply searching for "professional plumber" on the Internet will turn up many results. Not all professionals are equal, so how can you choose?
Here are a few things to look for when you're on the search for a local professional plumber:
Licensing: This is what really sets a professional plumber apart from an amateur, and you want to ensure that you only hire a licensed professional. Having a license means a plumber who is registered with the appropriate state or local governing body.
Experience: Yes, it's possible for a licensed and trained plumber who is new to the business to be able to do a great job. But years in business counts for a lot. It not only indicates a plumber with experience to help on the job, it also shows trust built up within the community.
Master plumbers on staff: Licensed Master Plumbers mean people with the best training in the industry. People you can count on.
Additional warranties: Look for a plumber who offers a warranty on labor in addition to the manufacturer's warranty.
Emergency service: When you have a serious plumbing problem, you won't be able to wait until a plumber's office hours before you can get help. Always look for a plumber who offers 24/7 emergency service.
Free estimates: You won't have anything to lose when you turn to a plumber with the confidence to offer free estimates on their work.
Positive local reviews: See what other people from your community are saying about the plumber. (For example, take a look at some of the reviews our customers have given us.)
Family-owned and operated: "Big Box" national plumbing companies don't always have a customer's best interests in mind. A family-owned company understands the value of great work and customer service.
When you are looking for a plumber in Burlington, VT or elsewhere in Northwest Vermont or Northeast New York, we're the contractor to call. We're a family-owned and operated company that's been in business more than 20 years. We're proud to have Master Plumbers working on our staff. And yes, we offer free estimates. We also offer work for commercial plumbing.
Red Rock Mechanical, LLC answers the phones 24/7—you'll always be connected to a live person when you need plumbing assistance.