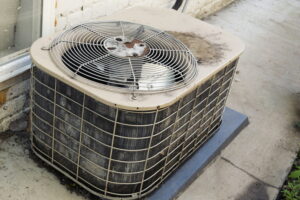 The simple answer to the question is "yes." An air conditioner contains numerous metal components, many of which can rust because of contact with water. 
There's more to it, however. If you're asking this question, it might be because you've noticed corrosion on your air conditioner and have concerns about whether this means the system needs air conditioning service Plattsburgh, NY. Or you may feel worried about the long-term service life of your air conditioner and want to know what you can do to prevent rust in the first place. 
We'll look deeper into the issue of rust occurring in an AC below.