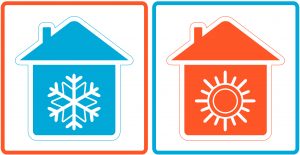 This is a common question people have when they first hear about how a heat pump works. The conversation usually goes something like this …
HVAC Tech: A heat pump is basically like an air conditioner. But it can work in reverse.
Homeowner: What happens when an AC runs in "reverse"?
HVAC Tech: Well, normally an AC draws heat from out of your house. That's why the air feels cooler indoors.
Homeowner: I thought an AC generated cooling.
HVAC Tech: Cooling is the lack of heat. The AC takes the heat away, making the air cooler. But the AC has to put that heat somewhere, so it releases it outdoors. Now imagine doing it the other way. A heat pump when in heating mode draws heat from the outside and releases it indoors. Presto! Home heating.
Homeowner: Oh, I see. But … wait a minute, I'm only going to run the heat pump in heating mode when it's cold. So that means the heat pump is bringing in heat from the cold air outside?
HVAC Tech: Yes.
Homeowner: How does that work? It's … cold outdoors!