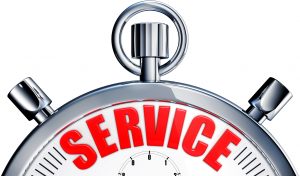 An important part of providing air conditioning service for our residential customers is helping them avoid air conditioning service as much as possible. Yes, this sounds like a self-defeating goal, but the aim of our company is to make sure our customers have the finest in comfort. Finding ways to help our customers' air conditioning systems work at their best and without the need to call us for emergencies is something we're glad to do.
And the best way to let us help you with air conditioning service in Burlington, VT is for you to sign up for one of our regular maintenance programs. Here are some of the reasons this is a great idea:
Extended equipment life
The standard central air conditioning system should be able to work for 10 to 15 years before it needs a replacement. However, this is only if the system receives annual spring maintenance. Otherwise it will wear down rapidly and may need to be retired earlier—which is a major waste of money. On a maintenance plan, your AC will have the regular attention it needs to put in a long service life.
Keep the warranty current
Not all system warranties are the same, but with many air conditioners the warranty only stays current if the system receives regular maintenance. We'll see that your warranty isn't voided when you're on a maintenance plan.
Avoid unnecessary repair calls
The majority of service repairs an air conditioning system may need during its lifetime (around 85% of them) are avoidable thanks to regular maintenance. Sticking to a regular service plan not only saves you money on repair costs, it avoids cooling interruptions and general inconvenience.
Prevent emergency breakdowns
You wouldn't want to start on a long, cross-country drive in a vehicle unless it had a professional tune-up and inspection beforehand. Going into a hot summer season with an air conditioning that hasn't been inspected and tuned-up is the same thing. An AC without maintenance is at a much higher risk of a catastrophic failure during a time when you need its cooling power the most—and when HVAC technicians will be extremely busy. A regular maintenance program is like an insurance policy to keep your air conditioner running.
Heating maintenance
Our maintenance program isn't only for air conditioning systems. When you sign up, you're also arranging for a fall visit to tune-up and inspect your furnace or other heating system. You don't want to get caught in a Vermont winter without a working heater! Our technicians will also see that your heater is running in the safest possible condition.
Extra benefits
Our two different maintenance plans offer you more than the standard twice-annual preventive service for the air conditioner and heater. You also receive extra benefits as a loyal member: discounts on parts and labor, no overtime fees, and specials on additional equipment. Contact our office to find out more about the details and benefits. We'll get you started with your spring AC maintenance.
Red Rock Mechanical, LLC has served Burlington, VT and the Plattsburgh, NY area for more than 23 years. We offer free estimates!