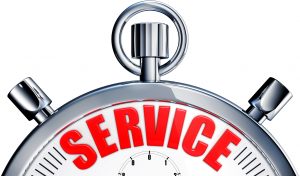 If we had to select the best month for scheduling heating maintenance in Plattsburgh, NY, it would be October. There is no truly bad month for heating maintenance: it's important that it gets done each year, so having it later or earlier is better than never. But October is when you'll get the most from having professionals inspect and tune-up your heating system.
Why is this? For one, it's in the "Golden Zone" where it's early enough to beat out the first serious cold weather of the year but late enough that the heater will be in prime shape for when those cold snaps first make their chilling debut. It's also a time of year when HVAC technicians like ours have less crammed schedules because we aren't dealing with as many emergency calls for failed ACs or heaters. You can schedule maintenance for the most convenient time.
A Reminder That This Is a Necessary Annual Service
We could make a good case that HVAC maintenance—both for heaters and air conditioners—is the most vital service we offer to our customers. This is because maintenance improves the overall performance of an HVAC system so that it will rarely need emergency assistance and can enjoy a long service life. Yes, we're recommending you have a service that will require you to call us less often in the future! We're glad to have you as customers, but if we do our job right and serve you with the quality work you deserve, you won't need to rely on us often—and that's a big win for you!
How Maintenance Benefits You in the Short and Long-Term
We'll go through a list of the biggest benefits you receive from having us tune-up and inspect your furnace or other heating system each year:
Fewer repairs—in fact, as many as 85% of the repairs you might otherwise need during the service life of your heater are preventable when the system is maintained annually.
A longer service life from the heater. When heaters don't have maintenance, they often last only half as long as they otherwise would.
You'll keep the manufacturer warranty in place, which is an important consumer protection. You don't want to have to pay for a repair or replacement that's due to a manufacturer's fault.
The heating system will run much safer. We always perform safety checks on gas-powered systems to ensure there are no hazards for the immediate future.
Better energy efficiency. Permitting a heater to go without routine cleanings and adjustments allows for it to wear down faster and raise energy bills.
Peace of mind that the heater has little chance of breaking down on your during the winter.
Sign Up for Our Maintenance Plan Today
We offer different Preventative Maintenance Comfort Plans so you can find one that fits your needs and your budget. If you don't belong to a maintenance plan yet, call us and we can give you the details about our programs and the special membership benefits that come with them. It's one of the best investments you can make in your household comfort.
Red Rock Mechanical, LLC serves Northwest Vermont & Northeast New York. Schedule heating maintenance today.