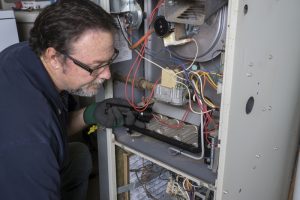 "Spring hasn't even arrived yet, and yet I should be thinking about replacing my furnace?"
Yes! Your current furnace is still working away, and will continue to do so until the warmth finally settles in. But the "spring/summer break" for your furnace is an ideal time to make plans to replace it. The point when you need the furnace the least is the time to have it taken out and a new one put in, because…
You'll be far ahead of the next cold weather and won't have to worry about cramming in an installation in fall.
Local HVAC contractors don't have schedules that are packed during the spring and can find a convenient time to arrange for the work.
You'll have enough time to review your options carefully for a new furnace installation.
Let's take a deeper look into that last point. Choosing a new furnace is trickier than it may seem, especially if you've never had to have one replaced.
Finding a New Furnace
If your current furnace is more than 15 years old, you should know there are many superior options now available. These furnaces run better and at higher efficiency than your old furnace did even when it was new.
The first choice most people face with furnace replacement is if they're going with a gas or an electric model. The answer to this is usually simple: go with what you already have. There's no reason to switch to an electric furnace if your home has a gas line. If you don't have a gas line, then you can't switch from an electric furnace to a gas furnace. (However, there is the option for a heat pump, but that's another discussion.)
The next choice for a furnace is how high efficiency you want it to be. "As high as possible!" you might say, but it's not that basic. High efficiency condensing furnaces have AFUE rating percentages in the high 90s (your old furnace may be in the 80s or even 70s), which means hardly any energy goes to waste. But they're also more expensive. A high AFUE rating is no guarantee of savings either. If the system is the wrong one for the house and sized improperly, the efficiency won't matter a bit. In some cases, a lower efficiency system may be better.
There are other options to think about, such as multi-stage burners and variable-speed fans. These features improve efficiency but also create better comfort levels in a house with a more even spread of temperatures.
Call on HVAC Professionals
You must have a furnace professional help you make the decision. Only an HVAC technician with training can determine the right type and size of furnace to meet your needs—and of course they must be the one who takes out the old system and put the new one in.
If you don't think putting in a new furnace is necessary this spring, make sure you don't miss out on furnace repair in Plattsburgh, NY if your system needs it. Never allow a furnace to go into its summer hibernation with a lingering malfunction—it could mean an unpleasant surprise when you need the furnace running again in winter!
Red Rock Mechanical, LLC offers heating service to Northwest Vermont and Northeast New York.