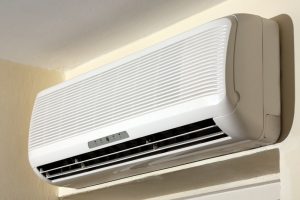 Ductwork is what originally allowed air conditioning and heating systems to spread conditioned air throughout a house, rather than concentrating it in one place. The earliest ducted systems were nothing more than metal pipes extending from basement furnaces (or even just fireplaces) that allowed heat to rise to different rooms in a building. Today, forced-air central AC and heating systems use powerful air handlers and efficient ducts to see that comfort is sent throughout a house.
But technology has also developed ductless HVAC systems. Also called ductless mini split heat pumps, these HVAC systems operate like standard heat pumps (cooling and heating air through circulation of refrigerant), but the single outdoor unit connects through walls to separate air handlers placed around the house. Each air handler has its own fan and refrigerant coil so it can blow the cooled or heated air directly into the living space—no ductwork required.
Ductless System Have Some Excellent Uses
Installing a ductless heating and cooling system isn't ideal for all homes, but they can be a radical improvement in comfort, health, and energy savings for the right homes and situations:
Older homes without ducts: Homes before 1970 often had no ductwork built into them because central HVAC systems weren't common yet. If you have one of these homes, you don't have to rely on cumbersome and inefficient window air conditioning units. A ductless system provides the cooling (and heating) to take care of the house without worrying about trying to find places to squeeze in ductwork.
New home construction: Building a new house? Choosing in the early stages to use a ductless mini split makes the process easier because you don't have to sacrifice room for a ventilation network. A ductless system frees up designing your dream house.
Add-on rooms: A ductless HVAC system doesn't need to condition the entire house—it can be used for an add-on room so you don't have to tamper with the rest of the HVAC system to accommodate the larger space. This also works for converting areas of the house that don't have access to central cooling and heating, such as the garage, into a work or living space.
Hard to heat and cool spots: Homes with spots that always are too hot or cold can benefit from having a ductless mini split to help with temperature control.
Allergy and asthma problems: For a household with serious allergy and asthma sufferers, going ductless can make an enormous impact. Standard ducted systems collect large quantities of dust and lint and other contaminants that are then blasted into the air whenever the blower fan turns on. Ductless mini splits don't have any ducts and help create healthier air.
Talk to the Ductless HVAC System Professionals
We install and service ductless heating and ductless air conditioning in Burlington, VT, and we're happy to help you with making the choice about a new HVAC system installation. We have a range of options, and we'll ensure you end up with the year-round comfort solution to care for your household.
Red Rock Mechanical, LLC serves Northwest Vermont and Northeast New York. Request a free estimate today.