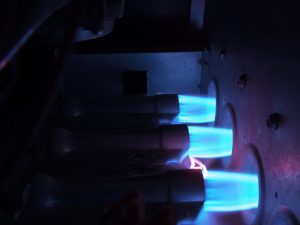 The winter weather isn't done with us, but the second half of the season is a good time to consider how well your home's furnace has held up. This may be the last winter it can perform up to expectations. Or it may already have fallen behind this season. If you've spent more on furnace repair in Burlington, VT than you think you should, getting a new furnace during the spring lull might be on your mind.
It's wise to start making plans, and even wiser to learn how to recognize when a furnace is nearing the end of its service life. Let's hunker down and get a clear-eyed assessment of your furnace situation.
Safety comes first
You probably have a natural gas furnace, the most common type in our cold winter climate. With any aging gas appliance, safety is a top concern. A gas furnace is most likely to become hazardous when it's deteriorating because corrosion can lead to cracks along the heat exchanger. If your wobbly furnace has caused the home's carbon monoxide detectors to go off, then you shouldn't plan on furnace replacement—have technicians out to help right away!
About those repair costs …
Few warning signs of a furnace on its way out are more glaring than costly repairs or too many repairs. Repairing a furnace every winter to keep it running—too much. Paying more than $500 per year on those repairs—too much. Paying more than 50% of the cost of a new furnace on repairs—too much. If your gut instinct about repairs is to yell, "Too much!", start planning for a new furnace.
Heat isn't what it used to be
A furnace that's providing you with warmth, but not as much as it once did, is a good candidate for the scrapyard. When a furnace begins to decline in its old age, heating capacity drops and cold spots start to appear around the house. Pushing the thermostat higher isn't the way to deal with this! Call for repairs first. Let the HVAC technicians tell if a replacement is better.
Your furnace is a money-guzzling fiend
Ah yes: when heating bills turn scary. If winter utility bills are unpleasant to face when they were once much nicer, a wasteful old furnace may be at fault. Just like a gas-guzzling old car, you must decide if keeping this old heating fiend around is worth the cost—especially when the furnace may choose to die on you at any time.
Have you heard about this great new model … ?
Sometimes the reason you want to replace a furnace is because you've discovered a better model with higher efficiency and excellent features. If you feel you've gotten your full money's worth from your current furnace, wanting to upgrade to a superior model is as good a reason as any to make the change. Our technicians will help you find the best affordable new furnace with the features you're looking for and a great AFUE rating.
Red Rock Mechanical, LLC serves Northwest Vermont and Northeast New York. Schedule an appointment for your furnace.