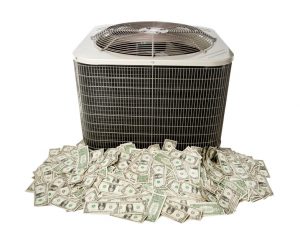 At the end of the summer is when you're most likely to notice your air conditioning system is wasting money. The bills for the summer have accumulated, and you may see a difference in how much you're paying—an unpleasant difference.
But you don't have to accept the fate of a bank-breaking Williston, VT, HVAC system. You can take steps to improve the energy efficiency of your central AC. Some are bigger steps than others, and you may require the assistance of our expert air conditioning technicians. But making the changes are worth it since an inefficient AC is not only expensive, it's going to decline further and end up sticking you with a non-working cooling system on a day when you need it most.
Recommended Steps for Better AC Efficiency
Change a Dirty Air Filter: This is the #1 piece of general advice about air conditioning systems we hand to our clients. A dirty air filter will kill an AC's efficiency and end up causing all sorts of other troubles. If you haven't changed the filter all summer, then it's costing you money right now. Put in a new filter, and keep up with changes every 1 to 3 months from now on.
Clean Around the Outdoor Cabinet: Go look at the outside cabinet (the condenser) of your AC. If it's surrounded by debris and covered with dust and grime, it will negatively affect efficiency because the AC won't be able to effectively exhaust heat from the house. Clean the cabinet and clear the area. An extremely dirty condenser cabinet may require cleaning from professionals.
Check on the Thermostat: You may have a faulty thermostat (or thermostats) in your house causing the AC to drain power. Check the settings: does the AC seem to be meeting them? Are you pushing the settings lower than necessary (below 78°F)? Are the thermostats over ten years old and still manual? Making repairs or upgrades to the thermostat, as well as carefully watching the settings, can improve energy efficiency.
Have Repairs Done That You've Delayed: Have you ignored any warning signs of a malfunction from the AC during the summer? Be honest! We know how tempting it is to delay having repairs done when the cooling performance still seems to be "fine," but these malfunctions can cost you enormously on AC performance.
Replace an Ancient AC: If the air conditioner is becoming more costly to run no matter what you do, the time may have arrived for you to send it to the scrapheap and have us install a new one. An air conditioner that's more than 15 years old is a candidate for a replacement if it's too expensive to run.
We Have the Service You Need, When You Need It
Our HVAC service technicians are ready 24/7 when you have emergency air conditioning needs. You can also call them to look over the system and help you make the choice to lower your cooling costs. We're here to see you have cooling that doesn't break the bank.
Red Rock Mechanical, LLC serves Northwest Vermont and Northeast New York. Call us when you need fast air conditioning or heating service for your house.