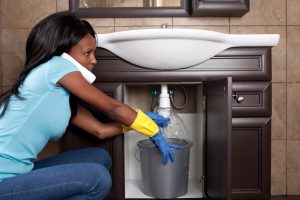 There are times when you have a plumbing problem so urgent that you don't have a choice except to call an emergency plumber in Plattsburgh, NY. We're here to be that plumber when you've got the trouble. However, we know that right now you'll feel hesitant about reaching out for services you may not absolutely need right away. When you face an issue with your plumbing, you may find yourself debating whether you should make an emergency call.
We'd like to help by taking a closer look at plumbing emergencies in general, how to deal with them, and when it's best to call us for vital help.
Beware of DIY!
We discourage homeowners from trying "do-it-yourself" plumbing solutions in even the best of times. We especially want to discourage it now, since DIY work can not only make problems worse, it can also cause injury—so instead of an emergency plumbing call, you're making an emergency medical call. When you're in any doubt, please leave the toolkit aside and seek professional options.
Loss of water? Check to see if it's municipal
One of the most common plumbing emergencies is when there's no water in the house or water pressure is so low as to be almost useless. Before contacting an emergency plumber, call your neighbors to find out if they are experiencing a similar issue. If they are, then you'll know the issue is with the municipal water supply. Call the utility company to see when it will be resolved.
Know how to shut off the water to the house
If you have a plumbing problem that's causing water overflow and possible flooding, you'll almost certainly need a plumber. But before calling for one, shut off the water to the house. Do you know how to do this? If not, now is the ideal time to find where the shut-off valve to the house is. Make sure all the adults in your home know its location. Once you have the water shut off, you can better make the decision about how soon you need a plumber's help.
Clogged drains? Use safe unclogging methods first
A clogged drain is often a nuisance. Sometimes it's an emergency if it threatens to shut down essential basic tasks. Regardless of what kind of clog you have, you can attempt to unclog it on your own before calling for help. First, try a sink plunger/toilet plunger. Then try a drain snake/drain auger. Both methods are safe and simple, and sometimes they work or provide temporary solutions. If they don't work, call for plumbers—do not use chemical drain cleaners, which are the opposite of safe!
Sewage backup is always an emergency
Sewage backing up through floor drains, toilets, and sinks on the ground floor of your home not only prevents using these drains, but it's also dangerously unsanitary. The problem could be a clogged sewer line or clogged drain vents, and it needs resolution right away. Don't hesitate to call for emergency plumbing when you have this problem.
When in doubt … ask!
If you aren't sure how bad the problem is, we're here to help. We can tell you steps you may take to mitigate the problem while we get to you. We'll do everything we can to help with a swift, effective, and safe resolution to your home plumbing troubles.
Call us 24-hours a day for emergency plumbing. Red Rock Mechanical, LLC serves Northwest Vermont and Northeast New York.