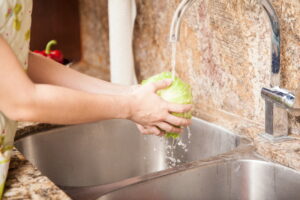 You're facing a big kitchen plumbing project: you need to get a new sink. Because… 
The old sink is cracked or leaking and you think it's beyond repair.

You're looking for a sink with better features, like dual basins.

You want an attractive update to an older kitchen.
Whatever the reason you want a new kitchen sink, you're feeling a bit stressed about doing the job yourself. Good news! You don't have to. When it comes to kitchen plumbing in Plattsburgh, NY, you can always hire a professional plumber to handle your kitchen sink installation. In fact, you should. 
Can you do this DIY?
Potentially, yes. Often people think that DIY is the only way to get a new sink in—they make the mistake of believing professional plumbers are only there to fix plumbing troubles like busted pipes and clogged drains. But plumbers handle almost any job you can think of for a home's plumbing system, and it's best to let them do these jobs. 
We don't recommend you try to install a sink on your own. Too much can go wrong, starting with picking the wrong type of sink. Connecting water lines, drains, the garbage disposal … you'll begin to see why all this is a set of hassles and potential mistakes you don't want to deal with. You can hand all of it off to our plumbers.
We'll pick the right sink
When you decide to hire us for your sink installation, we'll start everything off right with finding the sink that matches your needs, as well as the space available. Tell us what you're looking for in a new sink, such as features (built-in soap dispenser! pull-down sprayer!) and designs. There is a wide range of sink options available today, and the right one can transform your kitchen.
We'll quickly remove the old sink
This is one of the parts of new sink installation that DIY-ers think will go smoothly, then ends up confounding them. There are numerous steps, from disconnecting water lines, removing the garbage disposal, loosening the sink from the counter without damaging the counter … if you feel tired reading this, you'll understand why professional plumbers are so valuable. 
Now we'll get the new sink in place
Everything that was dismantled in the previous step now must go back into place for the new sink's arrival. If you've changed from an overmount sink to an undermount (or vice versa), the attachment of the new sink will require extra changes. We'll caulk the new sink into place, a step that must be done correctly or the sink will leak. The hot and cold water lines now go into place, then the garbage disposal (by the way, great time to get a new one!), and the drainpipes. Everything must go in right to ensure the sink will neither leak nor shake around and cause parts to come loose. 
We hope you can see why you want pros on this job: we'll get the work done fast and right, and this will save you time and stress in the present and money in the future. 
Red Rock Mechanical, LLC serves Northwest Vermont and Northeast New York. Schedule kitchen plumbing services with us today.