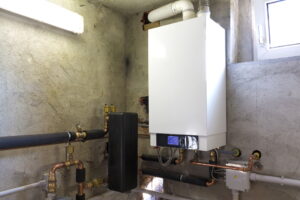 You've had the same boiler for many years providing your home with warmth through the winters. In fact, that boiler may have been in place for decades, since boilers are able to last longer than other types of heating systems like furnaces and heat pumps. 
However, as the winter winds down, you might start to wonder when you'll need to replace the boiler. It can't last forever, and you suspect your boiler may be getting close to a point when the next boiler service in Plattsburgh, NY you schedule will be a new installation.
Below we've put together a list of some of the common indications that it's time to replace your boiler.
Age
Although the age of a boiler isn't an absolute indicator for when the system is at the end of its service life, it's the best place to start. Old cast iron steam boilers sometimes were able to last up to 50 years, but modern hot water boilers have a life expectancy of between 20 and 30 years. High-efficiency condensing boilers usually have a lifespan of about 15 to 20 years. If your boiler is in the upper range of this life expectancy, it's a good idea to pay closer attention to the other indicators: the boiler is already at the right point in its timeline for replacement.
Energy Costs
The last few years of a boiler's life are when it will start to experience a fast decline in its energy efficiency. A boiler that has regular maintenance each year should only lose around 5% of its efficiency during most of its service life. So when you begin to notice that you're paying far more on natural gas costs during the winter, it might be because the boiler is in its final years.
Cold Spots
A boiler should be able to provide even heating that's superior to what forced-air systems can do. When that starts to change, it can mean the boiler is beginning to lose its general heating capacity. If it can be changed through repairs, the boiler should be replaced.
Expensive Repairs
A boiler will need fewer repairs than other types of heaters because it contains a smaller number of moving parts. So, a boiler that needs repairs almost every year is one that is wearing down. Soon, the cost of the repairs will far outweigh the cost of replacing it. And paying more than half the cost of a new boiler on a single repair is too much.
We recommend that you seek out the opinion of HVAC professionals before you make a solid decision about putting in a new boiler. Only professionals can handle the replacement service, so it's a good idea to have the pros involved early on. We can analyze your current boiler's performance and help you decide if a replacement is the best choice or if repairs can keep it going efficiently for several more years.
Red Rock Mechanical, LLC serves Northwest Vermont and Northeast New York. Call us for boiler repairs, replacements, and other heating services.