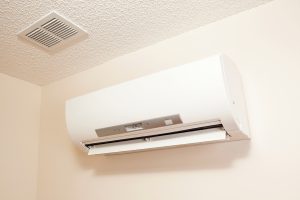 February is a strange time when it comes to HVAC work for homes. Winter is still here, but now that we've moved into the second half of the season, people feel less willing to make big changes to their heating systems. They'll call for repairs if they need them (at least, they should!), but heating upgrades or new system installations won't be a priority when warm weather is coming closer.
But we can recommend a few good February investments—aside from those vital repairs—for your heating in Burlington, VT and your home's HVAC system overall. Today we're going to focus on one of the best: installing a ductless heating system.
Why Ductless Heating for February?
It's always a good time of the year for putting in a ductless mini split heat pump. Like other heat pumps, ductless systems work for both heating and cooling. The moment the new heat pump and its wall units are in place, you can turn it on and start receiving the warmth your home needs. When the first hot day arrives in late spring, all it takes is an adjustment to the thermostats for the room units, and presto! You have great air conditioning.
Heat pumps are becoming more popular in our area with each year thanks to their evolving technology. Where heat pumps used to struggle with temperatures under 40°F, newer models can take on deep freezes without losing energy efficiency.
Get a Jump on Allergy Season
Here's another reason for using February for ductless heating and cooling installation. Allergy season can start as early as February—it isn't limited to the spring! Ductless systems are an immense help with keeping down allergens from circulating through a house. The ducts in a standard HVAC system collect dust and pollen and then blow them around the living spaces. But if there are no ducts, the air quality is much better. We often recommend ductless mini split heat pumps to homeowners who have to deal with allergies and asthma in their households on a regular basis.
Provide Heat to Those Rooms That Never Gets Warm Enough
A ductless mini split heat pump doesn't have to entirely replace the current HVAC system in your home. If you already have extensive ductwork, it may not be cost-effective to bypass them for a ductless system.
But you can have a ductless system installed as a supplemental part of your comfort, such as to provide heat to rooms that often don't receive sufficient warmth. You probably have a few cold spots in your house, such as rooms too far along the ventilation system or which have poor insulation. For these rooms, you can have a ductless mini split installed to help warm them up. No need to tamper with your existing ductwork or heater! The temperature can be controlled with a remote from inside the room.
To learn more about the possibilities of installing ductless heating and cooling, speak to one of our professionals today.
Red Rock Mechanical, LLC serves Northwest Vermont & Northeast New York. We have 24-hour emergency service available.