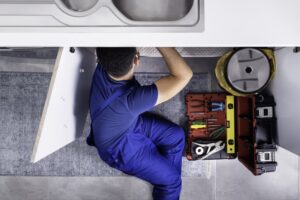 There are a few simple plumbing tasks in your home that you can perform yourself, such as replacing aerators in faucets or cleaning them out when they collect too much silt, or putting in a new flapper in the toilet when the old one wears out. But you shouldn't try to go any farther with DIY work on your plumbing—nothing that requires you get out the wrenches or more complex tools. 
Furthermore, you shouldn't hire a non-professional to take care of plumbing jobs like repairs, replacements, and installations. The local "handyperson" isn't the best path toward a good plumbing system! You want to call on a plumber in Plattsburgh, NY who has the appropriate training, equipment, experience, licensing, and certified Master Plumbers on staff. 
This list of advantages of going with a professional plumber will give you a good idea of why you only want to trust pros, no matter the service.
Insurance
For plumbers to have licensing and certification—i.e. be considered professionals—they must be able to show they have full insurance coverage. This is an important consumer protection. If a plumber is injured on-site when working on your plumbing, or the plumbers cause damage to your home, you won't be liable for any injuries or damage. Going with non-professionals creates an expensive risk!
The Best Tools
Plumbing equipment is much more than several different wrenches. Professional plumbers have access to advanced tools that aren't easily available to amateurs of do-it-yourselfers. Our plumbers have an extensive array of tools in their vans, and they know which ones to use to get jobs done accurately and quickly. Best of all, they're trained in the use of all these tools. The greatest equipment in the world still won't do much without the skill to use it!
Permanent Solutions
A professional plumber aims to provide solutions to the plumbing concerns in a home, where amateurs will at best be able to do a patchwork job that temporarily fixes a problem. Professionals are looking to the future of a customer's plumbing, and they'll always look for the root issues that need to be repaired.
Cost-Effective
The reason people often attempt to go the amateur route with plumbing jobs is because they believe they'll save money. This rarely ends up being the case. Yes, an amateur will offer a cheaper quote, and DIY is of course as inexpensive as the work comes. But the real cost of non-professional work is often extremely high. Professionals can get jobs done quickly and, most importantly, correctly. Amateur work rarely lasts, leading to more repair work in the future. Even worse, it can harm the plumbing and lead to bigger problems, including water damage to a house. When you invest in a professional, you're saving money over weeks, months, and years. 
They Do It All
Finally, professional plumbers offer multiple services: installations, repairs, replacements, maintenance. You can get help you didn't even know you needed when you rely on the pros! Working with pros means you're getting all their knowledge at once. 
Red Rock Mechanical, LLC serves Northwest Vermont and Northeast New York. Call us for great professional plumbing service.