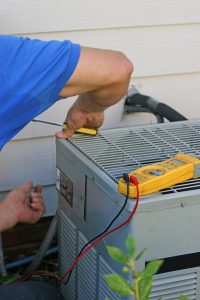 The winter weather certainly hung around for a long time, didn't it? Nobody likes to deal with snow that far into the year, but we're finally hitting the warm weather stride here in June. If you haven't arranged for a visit from one of our HVAC experts to give your air conditioner a pre-season tune-up and inspection, it's definitely not too late! The hottest weather is ahead of us, and as long as you've got your AC in good condition with routine maintenance before it starts to put in the heavy work, you should be in great shape for the season.
You Definitely Don't Want to Skip AC Maintenance
You may notice that all professional contractors offer a maintenance program of some kind (some better than others). What's all the fuss about regular air conditioning maintenance? Can it be skipped now and then?
Yes, it can—but you won't like the results. HVAC contractors "make a fuss" over maintenance because they know the value of it. For one, it's necessary to keep most system warranties valid. Check on the manufacturer's warranty for your air conditioning system, and you'll find a stipulation that the AC must receive annual inspections and tune-ups from licensed professionals. Skipping maintenance may void the equipment warranty, and you won't have any protection if the AC breaks down because of a factory flaw.
However, we think the biggest benefit of regular maintenance is the peace of mind it brings. An AC has a much lower chance of breaking down during the heavy workload of summer if it received proper maintenance in spring. The inspection catches most potential repair issues so they can be addressed early, and the cleaning and tune-up remove additional stress from the AC to prevent surprise repairs from cropping up. In fact, approximately 85% of the repairs an air conditioning system may require during its service life are avoidable thanks to maintenance. This means a more reliable air conditioner and less money spent servicing it.
Speaking of AC service life, you can expect your air conditioning system to last longer if it doesn't miss out on annual spring maintenance. An AC can work from 10 to 15 years if it's maintained each spring. That number drops to 5 to 8 years without maintenance. That's a substantial difference, and an expensive one when you think of how many years of AC service you lose out on.
Finally, and AC that has regular maintenance will run at higher efficiency. Missing a year can mean paying 5% more to run the system, and that number will only grow until you're paying much more than you should.
We're Here to Maintain Your AC
To schedule the air conditioning services in Burlington, VT you need for relaxation and peace of mind this summer, rely on Red Rock Mechanical. We have two different tiers of maintenance programs to care for your HVAC system, the AC and the heater. We'll keep your warranties valid and offer a number of additional benefits, such as discounts and no overtime fees. Call our office today to learn more about our maintenance programs.
Sign up for our maintenance program today. Red Rock Mechanical, LLC serves Northwest Vermont and Northeast New York.